Specializing in government jobs…
---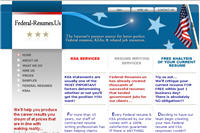 Who is Federal-Resumes.us?
Federal-Resumes.Us is one of very few services specializing in helping those pursuing government jobs. Their resumes are suited for all sectors and experience levels. Help with KSAs is also available.
---
What is the resume writing process?
● Use their online order form/questionnaire to supply your basic qualifying information.
● Within 24 business hours or less, a representative will confirm your request and verify details of your order.
● 2-3 business days later, they will email you a draft of your resume and any other documents requested at the time of order.
● If there's anything about the resume they provide that is not to your liking, they'll revise it at no additional charge.
---
Do they have prices listed on their website?
Yes, all Federal resumes start at just $139.95 – regardless of sector.
---
Do I get anything extra with my order?
All customers receive:
● Informational sheet on how to "score big" at job interviews
● Informational sheet on marketing your resume…and more
---
What is their guarantee?
If you don't get a job interview within 30 days OR if you're not satisfied with our writing during the same period of time, they'll revise your resume at no additional cost.
---
What if I need my resume fast?
Federal-Resumes.us can write your resume in 2-3 days or less. Even speedier alternatives are also available for an additional charge.
---
Other important facts about Federal-Resumes.us:
● 24 hour customer service available via online center with direct access to writers.
● Toll-free customer hotline.
---
SUMMARY:
Strengths: If you're seeking help with a Federal resume, it's best to see a specialist. Focusing on this unique type of assistance, Federal-Resumes.Us offers extremely high quality work at a reasonable cost. Their turnaround time is also impressive.
Perfect for…Federal job seekers or career changers who would like to have a job-winning resume package without breaking the bank.
Features & Offerings:
● Certified Writers
● Fast Turnaround on Initial Drafts Available
● Cover Letter Writing
● "Thank You"/Follow-Up Letter Writing
● Rewrite Guarantee
● Revisions on Initial Drafts
● Hard Copies Available
● Web Resume