Ensuring the Success of Leaders
---
Who is Exec-Resumes.com?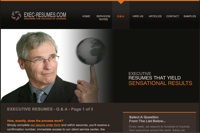 Exec-Resumes is one of the few firms in the world to specialize in resume writing and career counseling specifically for accomplished and aspiring executives.
---
What is the resume writing process?
Once you've completed their initial online (secure) order form, a TEAM is assigned to your project. Included in their team is a project outliner/coordinator/manager, a primary writer [a full-time professional with extensive experience in executive resume writing], and a secondary reviewer. Completed drafts are typically sent via e-mail (unless you specifically request otherwise) and you are in communication with your project manager/writer throughout the process. Easy revisions guarantee satisfaction.
---
Do they have prices listed on their website?
Executive resumes start at $199.95 and rates are only slightly higher for those who have extensive experience. Additional rates/options are clearly outlined on Exec-Resumes.com's secure order form. You can view their prices here.
---
Do they have samples of their work on their website?
Yes, click here to view their samples. You can also e-mail them your current resume for a free critique/sample of what they can do to dramatically improve it.
---
Do I get anything extra with my order?
In addition to various tutorials and e-articles providing top-notch tips for your career/job search, Exec-Resumes.com offers a number of optional add-ons and services. All clients are assigned a private log in for their online service center, an order ID, and going customer assistance.
---
What is their guarantee?
Exec-Resumes.com has three guarantees:
1) Deadlines/Completion dates are guaranteed.
2) Client Satisfaction is guaranteed.
3) Interviews are guaranteed within 30 days or your resume will be re-written until it works for you.
---
What if I need my resume fast?
They offer 1-2 day rush service that you can choose on their secure order form. Their typical turnaround time is 3-4 business days.
---
Other important facts about Exec-Resumes.com:
● Their writers have experience spanning several decades.
● They stay up-to-date on the latest trends and issues in executive resume writing.
● As a business, their ongoing success depends heavily upon referrals.
● Their prices are both respectable and competitive.
● Clients report that their resumes tend to "stand out."
---
Features & Offerings:
● Certified Writers Specializing In Executive-Level Resumes
● Professional Career Coaching via Telephone
● Rush Service On Initial Drafts Available
● Thank You Letter Writing
● Cover Letter Writing
● Job Hunting Services
● Rewrite Guarantee
● Revisions on Initial Drafts
● Hard Copies Available via Snail Mail at your request
● Internet Resume Posting