---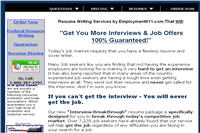 Who is Employment911?
Employment911 was formed in 1997 as a premier provider of solutions for job seekers and was launched with the idea to provide an "All in one" solution for them.
Their resume writers are certified either through the PARW, CPRW or NARW.
They are a member of the US Chamber of Commerce as well as of ePublicEye, which is where you can view customer ratings and testimonials. They are also a Geotrust Secure Site.
---
What is their resume writing process?
● Place your order: within 5 minutes you will receive a confirmation email with detailed instructions on how to process.
● Send in your resume information & job history: copy and paste your information through the resume wizard or e-mail your resume.
● Get assigned your own resume writer: you will be assigned your own resume writer with whom you will be in constant communication through a secure resume desktop that they set up for you. In addition, would you need help with something, you will be able to contact their team of customer service professionals through your resume desktop or through their toll-free number.
● Approve your resume: their writers might contact you if they need additional information and will be happy to make changes to your resume, upon request.
---
What are their prices?
Prices start at $137 and you can save $100 on full resume packages. Bonuses currently include e-books that will help you update your resume for the years to come, create a winning job search strategy, etc.
It's a good idea to review these offers as they may change often.
---
What is their guarantee?
What makes them different from other services is that they don't just write your resume – they want you to get interviews and job offers and have a 93% success rate. Not only do they guarantee that you will get more interviews within 6 weeks or they will they will rewrite your resume for free but, if after 120 days you aren't satisfied that it is helping you get interviews and job offers, they will refund 100% of your money.
---
What if I need my resume fast?
If you need your resume fast, Employment911 has an option to give you your completed professional resume in as little as 6 hours; your Federal resume in as little as 12 hours.
---
Other important facts about Employment911:
● They offer Resume Posting – Includes up to 80 of the top job sites on the web; 100% money-back guarantee.● They offer Resume Blasting (Distribution) – Includes employers (not just headhunters); 100% money-back guarantee; targeted by city and state that you select.
● They offer Free Job Search – Search Employment911's job listings and jobs on 110+ of the top rated sites on the Internet.
---
SUMMARY:
Strengths: They are one of the only companies that offer a money-back guarantee. It is extremely rare due to the fact the writers are usually paid once the resume is written. If they provide the client's money back, then Employment911 is out of money. Knowing that, they must not get a lot of requests for that because they're still doing quite well.
Perfect for…a job seeker who wants to get hired fast. Their mission is not to just write your resume but actually get you interviews and job offers – they have a 93% success rate and if after 120 days of using their resume you are not satisfied that it is helping you with your job search, they will refund 100% of your money.
Features & Offerings:
● Certified Writers
● 6 Hour Turnaround on Initial Drafts Available
● Cover Letter Writing
● Thank You Letter Writing
● Resume Distribution
● Resume Posting
● Rewrite Guarantee
● Money-Back Guarantee
● Revisions on Initial Drafts
● Multiple Distribution Formats
● Multiple Specialties
Affiliate Disclosure
You should assume that the owner of this website is an affiliate for providers of goods and services mentioned on this website and may be compensated when you purchase from a provider.
Read More