Land Your Dream Job
View All Services
Go to DreamResume
---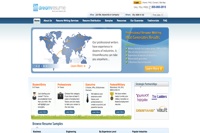 Who is DreamResume?
DreamResume is a professional resume writing & distribution company. DreamResume was founded by a team of investment bankers and management consultants. Frustrated by the errors and inconsistencies they found in many applicants' resumes, our founders set out to create a truly dependable resume writing service. DreamResume combines premium writing capability, personalized one-on-one support, and swift turnaround times. They claim their dedicated writing staff will provide you with a professional product in a format guaranteed to "wow!" employers.
---
What is the resume writing process?
● Step 1: Complete Your Resume Order
Select the appropriate resume plan and complete your order online or call them toll-free at 800-860-2915 .
● Step 2: Send us Your Information
Upload your existing documents and complete their online questionnaire to provide details regarding your work history and the jobs you plan to pursue. You can also email or fax them your information.
● Step 3: View Your Resume Draft
Within 3 business days, your information is reviewed by your assigned Resume Writer and a draft is returned to you for review. Typically they will annotate the draft with questions they may have regarding your work history.
● Step 4: We Make the Necessary Edits
Work one-on-one with your Resume Writer to get your resume exactly how you want it.
● Receive your Completed Resume
They'll send you the final resume via email in every format that you need to get your job search started.
---
Do they have prices listed on their website?
Yes, you can view the details here.
Student/Entry Level – prices begin at $149.99
Professional Level – prices begin at $199.99
Executive Level – prices begin at $299.99
Federal/Military Level – prices begin at $199.99
Cover Letters – prices begin at $29.99
---
Do they have samples of their work on their website?
Yes, you can view over 100 of them here.
---
Do I get anything extra with my order?
You receive a satisfaction guarantee, three business day turnaround time, personalized 1×1 support, and your resume in Word/PDF/ASCII formats. Additional services such as cover letter, thank you note, follow up inquiry letter, and referral contact letter are available for an additional fee.
---
What is their guarantee?
DreamResume's guarantee is upfront and simple. If you don't like your first draft, contact us for an immediate refund, minus a $29 administration fee. Otherwise, their resume experts will work with you until you are completely satisfied.
---
What is their normal turnaround time?
3 business days for the first draft. Later round revisions are completed in 1 or 2 business days depending on the level of complexity.
---
What if I need my resume fast?
DreamResume offers an expedited service which guarantees first draft delivery in two business days.
---
But will I get results?
They have 99% satisfaction rate. Their clients have received employment offers from leading Fortune 500 companies such as Apple, Goldman Sachs, Google, and McKinsey & Company.
---
Features & Offerings:
● Certified Writers (also employs non-certified writers)
● Rush Service On Initial Drafts Available
● Thank You Letter Writing
● Cover Letter Writing
● Rewrite Guarantee
● Satisfaction Guarantee
● Revisions on Initial Drafts
● Resume Editing (for prior clients)
● Multiple Distribution Formats
● Resume Posting/Job Site Submission
● Resume Distribution
● Job Hunting Services
● Lifetime Storage